TEACHES FOCUS ◦ PERSISTENCE ◦ CONFIDENCE ◦ LOVE OF MUSIC
Welcome to Violin Lessons with Corrina Barrett!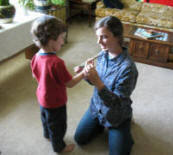 I teach children and adults in a caring and friendly environment. My teaching style is largely based on the Suzuki method of classical instruction. This method begins with folk songs and is a solid foundation whether you are progressing toward classical study or fiddle. I teach both in North Spokane and in Davenport.
The Suzuki method is centered on the idea that every person has within them the ability to create beautiful music, just as children have within them the natural ability to absorb and then speak their native language. Gaining insight into the individual learning styles of my students is a challenge that I enjoy. My Suzuki training has provided me with a colorful palette of games and techniques from which to teach the various skills of violin playing. I love teaching. I love leading my students to discover the skills they need to play beautiful music.

Dr. Suzuki said that playing the violin is easy. But he also said that the path to ability is knowledge plus 10,000 times! So what did he mean by easy? Well, each of the skills required to play beautifully is broken down into its components: easily manageable "teaching points," which slowly build on each other until the basics of tone production, correct posture and hand positioning become second nature.

For young students, parental involvement is another central aspect of the Suzuki method. The parent is an active partner in the child's musical journey, coming to each lesson and then practicing with the child at home. Don't worry if you don't have experience with music yourself, you will observe the necessary teaching points at the lesson so you can further direct your child at home. The nature of this special time shared with your child will slowly change as your child gets older and takes more responsibility for their own practice.

I generally accept students age 5 to adult, but I will consider a younger child. I look forward to meeting you!

Contact me to arrange your first complementary lesson.